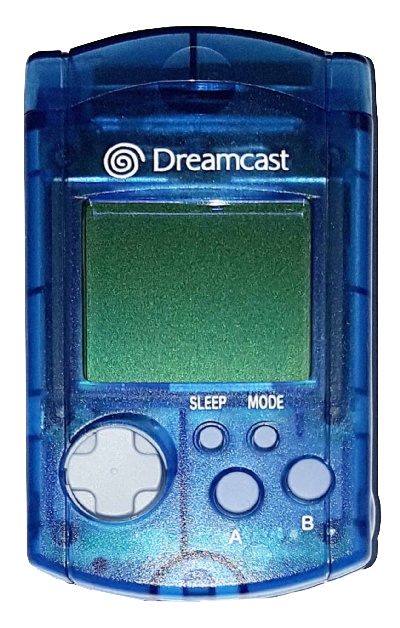 The Dreamcast was Sega's last soldier in the console war, released in 1999 and sadly discontinued shortly after in 2001. It was a very cool system, but it couldn't keep up with the PS2, no system back then could! But I'm here over 20 years later looking at this system for the first time.
Welcome to Blue VMU, my site about the Dreamcast! Everyone is welcome here, whether you were around for the Dreamcast's launch, you're a younger Dreamcast enthusiast, or you're just an interested passerby, I hope you'll enjoy this site! I wasn't around during the Dreamcast's launch, so this site won't be from a nostalgic perspective, more like a "is this still fun in the modern era?" perspective. Which honestly? I think yes.
---
OTHER COOL PEOPLE ON NEOCITIES!




You can link back to here with this banner if you'd like!

SITE UPDATES
---
July 10th, 2022
Added some images and another text post! I think I'll log off for now, since site profiles are down, but I'm going to make a quick note for myself here.
- Remake sprite
- Battery replacement
- Retrobrite
- There was another picture you wanted to take, but I forgot what it was, so good luck!
---
May 2nd, 2022
New text post, that's about it. I'm not super ill anymore, so that's great!
---
April 18th, 2022
Small update on my text post page and I added a link to a guestbook, I was going to compress my images finally, but no, I need sleep.
---
April 8th, 2022
A page has been deleted, a cursor may be added.
---
March 26th, 2022
Made some minor changes to the about page, compressed and added a couple pictures to the last post, and made a new post that I need to add pictures to. Hopefully I can add everything soon.
---
March 24th, 2022
Made some text posts, someone please remind me to put the images through tiny.png tomorrow, they take forever to load, sorry. I'll also add more images tomorrow and update the gallery.
---
March 19th, 2022
Made the title a link to my site's profile! I also added a secret page, it's not Dreamcast related, I made it out of boredom. I need my Dreamcast.
---
March 17th, 2022
I have the site fully designed! I made a test post and I'm going to add tags to this site now, I'll add content to it soon enough! I'm so excited!
---